Outdoor Kitchens / Firepits
At Old Town Custom Pools, we believe that an outdoor kitchen and fireplace can truly elevate the experience of a house. Not only do they add value to your property, but they also create an inviting and cozy atmosphere for entertaining and relaxing. Whether you want to cook, dine, or simply gather around the warmth of a fire, we can create the perfect outdoor living space to meet your needs.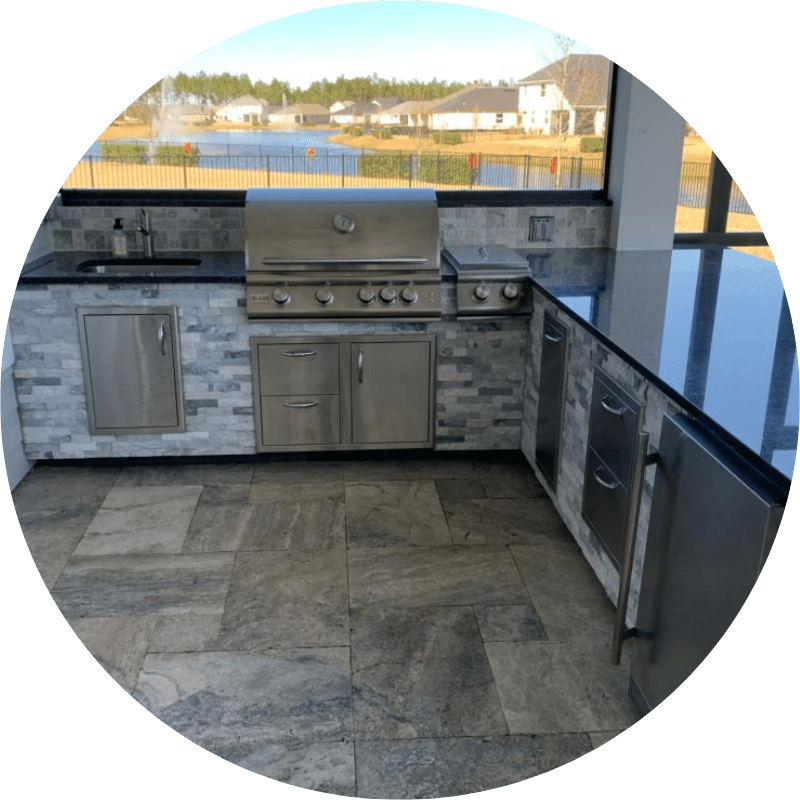 Outdoor kitchens are fully functional cooking areas that are designed to be used outside. They typically feature a grill, countertops, and cabinets for storage. With an outdoor kitchen, you can enjoy cooking and eating meals in the fresh air while taking advantage of your outdoor space. Outdoor kitchens are perfect for hosting barbecues, family gatherings, and dinner parties. They can be customized to fit your preferences, with options for built-in refrigerators, sinks, pizza ovens, and more.
Outdoor fireplaces are designed to provide warmth and light to your outdoor space. They can be standalone structures or built into a wall or chimney. Outdoor fireplaces can be fueled by wood, gas, or propane, and they can be customized with a range of styles and finishes. They create a cozy ambiance for spending time outdoors and can be used for everything from roasting marshmallows to staying warm on a chilly evening.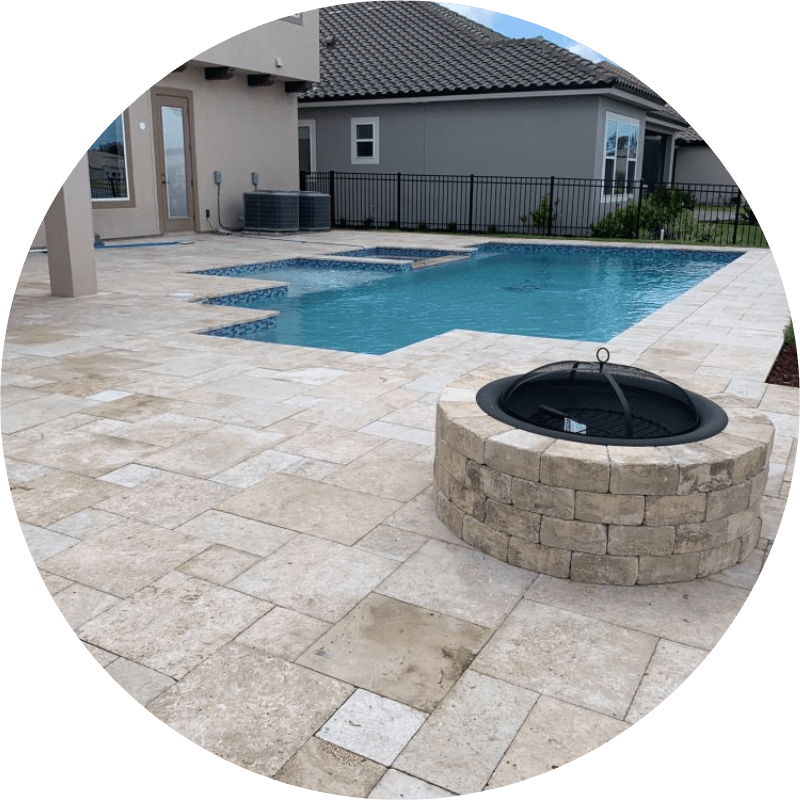 The Benefits of Outdoor Kitchens and Fireplaces
There are many benefits to adding an outdoor kitchen or fireplace to your home. For one, it creates an extension of your indoor living space, allowing you to enjoy your backyard year-round. It also adds value to your property, as outdoor kitchens and fireplaces are in high demand among homebuyers. Plus, an outdoor kitchen can save you money on dining out, as you can enjoy restaurant-quality meals in the comfort of your own home.
An outdoor fireplace also adds to the ambiance of your outdoor space, providing warmth and light for evening gatherings. It creates a focal point for your backyard and can even help to increase the resale value of your home. With an outdoor fireplace, you can extend the amount of time you spend outside during the colder months, giving you more time to enjoy your outdoor living space.
Customized Outdoor Living Spaces
At Old Town Custom Pools, we specialize in creating unique and customized outdoor living spaces. Our team of experts will work with you to design an outdoor kitchen or fireplace that fits your needs, preferences, and budget. We use only the highest quality materials and state-of-the-art technology to ensure that your project is built to last.
We believe that every outdoor living space should be a reflection of the homeowner's style and personality. That's why we offer a wide range of customization options, including different styles, finishes, and features. Whether you want a rustic, wood-fired pizza oven or a sleek, modern gas grill, we can create the perfect outdoor kitchen for you. And with our expert craftsmanship, you can be sure that your outdoor living space will be the envy of the neighborhood.
An outdoor kitchen or fireplace can transform your backyard into an outdoor oasis. At Old Town Custom Pools, we are passionate about creating customized outdoor living spaces that fit the unique needs of each homeowner. Contact us today to learn more about our services and how we can help you create the perfect outdoor living space for your home.